Great Gifts For Shark Lovers
Discover the perfect gifts for shark lovers who have a deep admiration for these majestic creatures. From cute soft toys to shark-themed accessories and unique jewelry, these thoughtful presents are sure to make a splash.
Sharks are beautiful animals that posses a perfect blend of grace and power. They're at the top of the food chain but sadly populations are in decline.
At Citrus Reef, a portion of all ocean jewelry and gift sales will go towards conserving and protecting marine wildlife.
Have any shark fanatic chums or loved ones? Sink your teeth into these 13 perfect sharky treats.
Whale Shark Bracelet
Wrap this unique Whale Shark Bracelet around a wrist and rekindle fond memories of the largest fish in the ocean. Made from a marine grade alloy and highly durable paracord rope which can be adjusted to fit any wrist perfectly. Whale sharks are under threat, you will help support conservation efforts with every bracelet.
$18.50, Buy Now
Shark Baseball Cap
Look fin-tastic while wearing this Shark Baseball Cap! Made from 100% cotton and features an embroidered great white shark. The strap will comfortably adjust to fit small and large heads so makes a great gift for all big fish enthusiasts. Available in washed-out red or black.
$19, Buy Now
Shark Bite Earrings
These Shark Bite Earrings are simply jaw-some. Made from oxidised sterling silver and blue enamel, the fun and unique stud designs will appear to be biting down on your earlobe. Complete with a gorgeous velvet pouch, makes this a great gift for the sharky girl in your life.
$29, Buy Now
Shark Bite Cable Protector
This super-cute Shark Bite Cable Protector slips over your phone's charging cord to protect it from damage. Made from 100% silicone and fits Lightning, Micro USB and Type-C cables. When plugged in, the little shark looks like he's got his jaws around your phone!
$9, Buy Now
Couples Shark Rings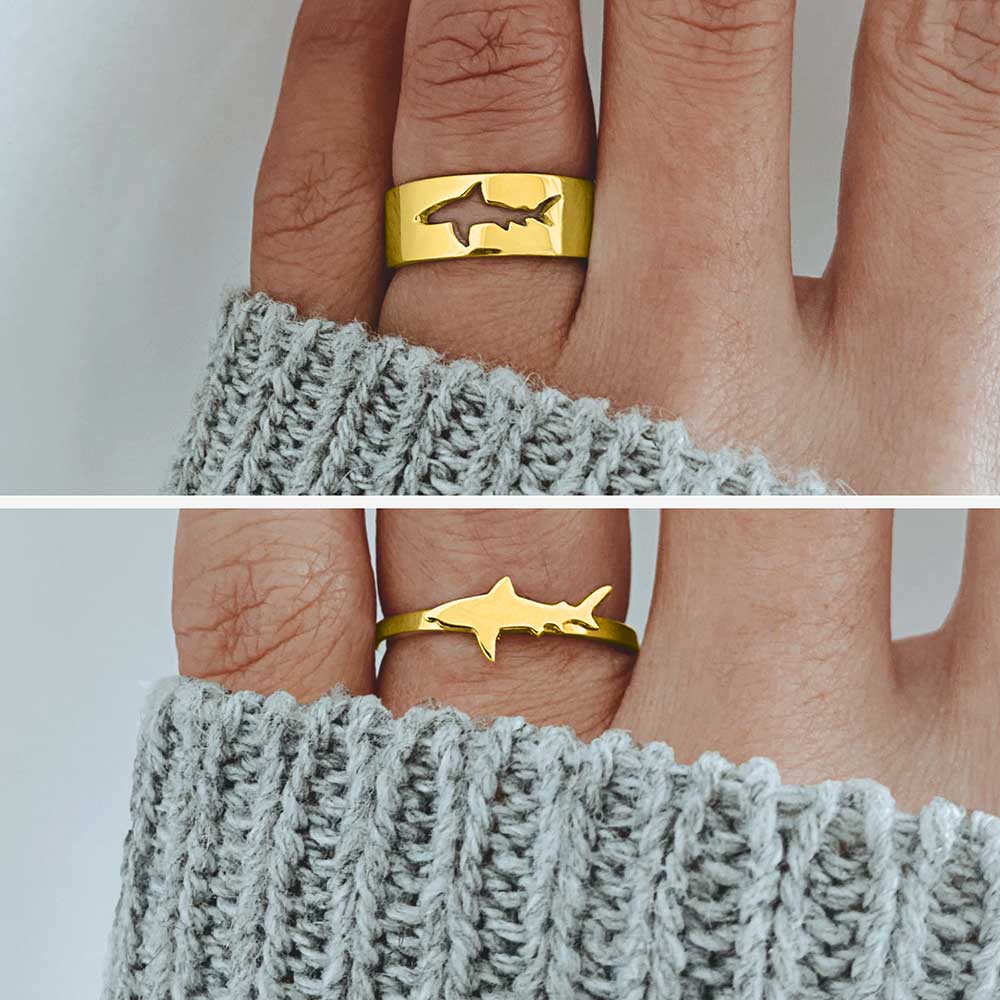 For shark lovers, the Couples Shark Rings are a perfect gift. These complementary rings serve as a visual connection between two individuals, representing their shared love and admiration for the sea's apex predators. Crafted from durable stainless steel with 14ct gold plating, and also available in silver plated.
$22, Buy Now
Hammerhead Shark Cufflinks
The perfect gift for apex pelagic lovers. These rhodium plated Hammerhead Shark Cufflinks will add a little bit of danger to your receivers attire. An iconic and unique looking shark made with exquisite detail.
$18, Buy Now
Blue Shark Tie
Stay at the top of the food chain by wearing our Blue Shark Tie! This slim woven design is embroidered with shark-infested waters and made from polyester and silk. Show who's boss by wearing our Shark Tie with the matching Thresher Shark Tie Pin.
$18, Buy Now
Geometric Shark Necklace
The Geometric Shark Necklace accentuates the outline of this amazing apex predator. Suspended by chain on either side, the shark pendant sits horizontally across the chest, adding an ultra modern twist. Also available in yellow gold and rose gold plated.
$18, Buy Now
Save Shark Pins
The pins say it all: these sharks need your help. Making a statement in a humorous way, these quirky Shark Pins will be much loved by whoever you choose to gift them to. They look awesome as an individual or as a set and include the messages: I'm Very Tired, My Head Hurts, Need Advil and Help Me.
$12, Buy Now
Reef Shark Ring
Swim to the beat with a fearsome yet adorable Reef Shark Ring. Inspired by a juvenile blacktip reef shark, this adjustable open-ring features sharks eyes made from gorgeous blue crystal stones. The streamlined body of the shark, from its snout to its caudal fin, wraps elegantly around the finger.
$14.50, Buy Now
Cuddly Hammerhead Shark Soft Toy
Make friends with this Cuddly Hammerhead Shark Soft Toy - a rare and beautiful creature found in warm tropical waters. Made from a soft grey plush, this cute Shark Soft Toy will be your bestie for life!
$36, Buy Now
Thresher Shark Tie Pin
Thrash it out in the boardroom with this Thresher Shark Tie Pin! Seeing these gentle giants are at the top of the list for most divers and would make a perfect gift for the smartly dressed scuba fanatic in your life.
$12, Buy Now
Hammerhead Bracelet
Wearing a hammerhead on your wrist is the ultimate "fin-tastic" fashion statement. With its latch design mirroring the hammerhead's unique head shape, it's the perfect gift for anyone who's ever wished they could accessorize with a bit of sharky charisma. Choose from a range of cord colors, and let this bracelet unleash their inner shark lover.
$17.50, Buy Now
Shop for more shark gift ideas
Here at citrus reef we have all kinds of shark gifts for adults and children.
From juvenile black tips to hammerheads and great white sharks, discover our entire collection of shark jewelry or ocean gifts for more inspiration.
Shop All Gifts
Leave a comment